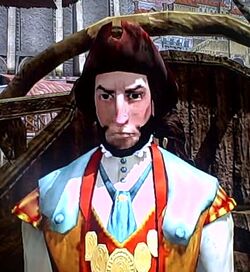 the Venetian Sea Captain is the Captain of the Charming Princess, one of many merchant vessels in service to the Doge. He can be found on the poop deck of the ship, which is anchored at a pier in the Harbor.
(Click on the map to enlarge it.)
Note: The Captain shows a "health bar" when Scarlett approaches him, but although he is part of the Unpaid Service quest, there doesn't seem to be a way to pick a fight with him.
Ad blocker interference detected!
Wikia is a free-to-use site that makes money from advertising. We have a modified experience for viewers using ad blockers

Wikia is not accessible if you've made further modifications. Remove the custom ad blocker rule(s) and the page will load as expected.