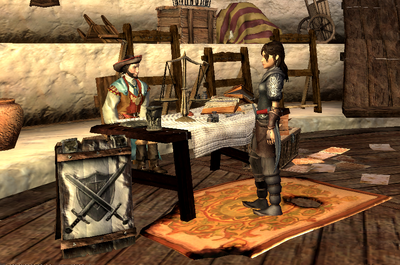 The Trade Center Administrator, also referred to as the Warehouse Merchant is the second trader, apart from Deimos, who does business inside the central Amphitheater area of the Outer City.
Scarlett will need to gain Access to the Amphitheater to interact with him. The first time, he greets Scarlett and asks for her type of business (NB -- he reacts quite nastily if Scarlett suggests that her business is stealing). When Scarlett has enough experience (50 or higher reputation), he offers her a small quest. In addition, he trades in weaponry. Apart from that, there is little evidence of his administrative role.
Goods Sold
Edit
The Trade Center Administrator sells a number of swords, a hammer, and two spears:
The Trade Center Administrator (like other traders) buys excess weapons from Scarlett, thus allowing her to convert looted weapons into cash. Unlike the other traders in the Outer City, the Trading Center Administrator is doing business 'round the clock.
The Warehouse Merchant.
Ad blocker interference detected!
Wikia is a free-to-use site that makes money from advertising. We have a modified experience for viewers using ad blockers

Wikia is not accessible if you've made further modifications. Remove the custom ad blocker rule(s) and the page will load as expected.