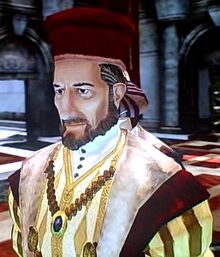 The Steward is the bureaucrat in charge of the grounds of the Palace. An officious man, he determines who gets access to which parts.
Scarlett will need to convince him of her loyalty to the Doge in order to gain access to the palace gardens, upper levels, and entrance to the throne room. He can be found in the great entry hall to the palace, and Scarlett will need to speak with him the first time she gets into the Palace.
Ad blocker interference detected!
Wikia is a free-to-use site that makes money from advertising. We have a modified experience for viewers using ad blockers

Wikia is not accessible if you've made further modifications. Remove the custom ad blocker rule(s) and the page will load as expected.