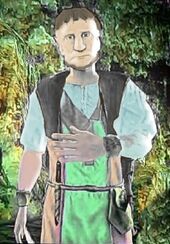 This nameless old codger is the last remaining miner in San Pasquale's Copper Mines. Sadly, between an infestation of Delvers and the recent attack by Assassins on the town, all the other miners are either dead or have fled (go figure.)
Depending on when Scarlett speaks to him, he'll be most worried about Delvers, Assassins, Necromancers, or being out of work. He can direct her to a recently discovered underground Sacred chamber at the end of one of the mine's tunnels, where she might find some clues about the Moonstone ore she's looking for.
Ad blocker interference detected!
Wikia is a free-to-use site that makes money from advertising. We have a modified experience for viewers using ad blockers

Wikia is not accessible if you've made further modifications. Remove the custom ad blocker rule(s) and the page will load as expected.