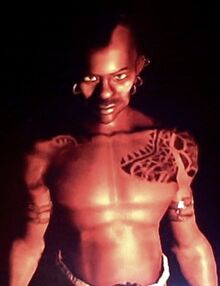 This Juma Clansman isn't given a name, for some reason. He is one of several exiles from the Juma tribe currently taking refuge in Venice. He strongly believes that Princess Chiamaka it is a good person, but she is been deceived into working with the Undead Archon. For that reason, once the Princess shows up in Venice personally, his life is in danger from her loyal warriors.
Scarlett will first meet him at the Skullbreak Tavern in the Arsenal District (at the top of the stairs or the platform.) He'll be sharing a table upstairs with another exiled Juma Tribeswoman.
He'll be really important to Scarlett when she's poisoned by Princess Chiamaka.
Ad blocker interference detected!
Wikia is a free-to-use site that makes money from advertising. We have a modified experience for viewers using ad blockers

Wikia is not accessible if you've made further modifications. Remove the custom ad blocker rule(s) and the page will load as expected.